CAME Connectour 2018
Remote automation at your fingertips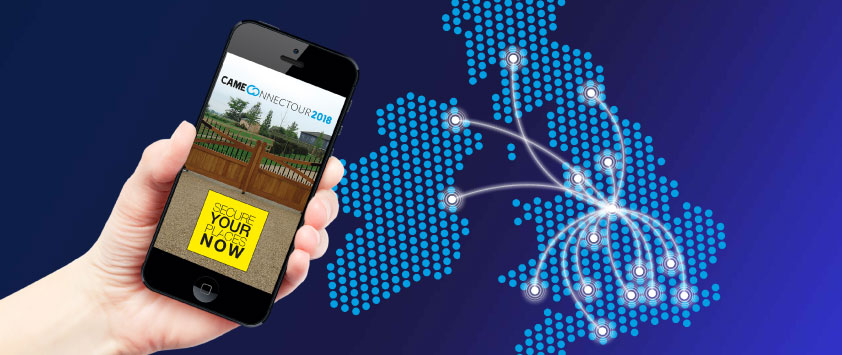 For 2018 we are taking the CAME Connectour back on the road, but this time we really mean business! We have selected 16 different locations all across the UK and Ireland to ensure all our customers have the opportunity to take advantage of this FREE training course that has been specifically created for professional automation installers. Our goal is to give all attendees an in-depth training on how the CAME Connect system operates which will then enable every attending company to take full advantage of the time saving and cost reducing innovations. We have designed this course to be fully "Hands On" and every attendee will be using one of our unique CAME Connect Training Hubs for the day that will allow every delegate to gain all the knowledge and skills needed to maximise the opportunity CAME Connect gives us.
A short summary of all that's new for the 2018 CAME Connect Training Course…
Unlimited places for your sales, engineers, back office & service staff.
Your own unique CAME CONNECT training hub for the day.
A general introduction & overview to I.O.T & cloud system interconnectivity.
Learn how you can provide remote support to your existing clients.
FREE of charge training! Only a very small admin fee per delegate applies.
One day intensive training course using real connected equipment.
12 jam-packed training modules covering everything you need to know.
At least 75% of the training will be "practical based" and "hands on".
Learn how to use CAME Connect with any make of automation system.
What will I get out of it?
You will be given access to our FREE online CAME Connect platform that will enable you to remotely control your systems saving you time and money. You will also have an advantage over your competitors with the new knowledge you have gained through "hands on" training.
How will the course be presented?
Our experienced course leader will give an informative presentation using projector slides and demonstrations in a seminar style environment. This is followed by an in depth opportunity to setup the CAME CONNECT system to our motors & door entry panels on demonstration models.
Do I need to bring anything?
Each candidate will get their very own "Connect Training Hub" for the day. This will comprise of a computer, iPhone, CAME Control Panel ZM3E, CAME Connect Gateway, CAME Slave Module and a CAME Ethernet Module - everything you need to enable you to master this revolutionary technology! Notepads and pens will also be provided.
How many people will attend?
Each course is attended by a maximum of 24 attendees. There will be plenty of opportunity to ask questions throughout the day, both during breaks and over your complimentary lunch.